Let me introduce you to your next project - A Foers Nomad !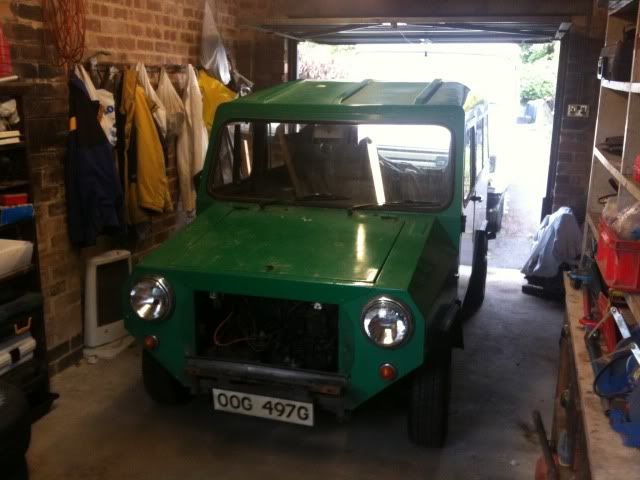 What is a Foers Nomad?
It's a 1960's Mini based kit car designed and built by Foers Engineering who went on to build the Ibex 4x4 kit car which was more of a success.  The Nomad was a limited run with only about 250 cars produced in various forms from open top to saloon to a six wheel version so your next project is rare!
What's is built from:
Its a solid steel chassis with aluminium panels and this one has a Series 1 Land Rover fibreglass roof.  This one has a standard mini rear subframe and a Metro front subframe with 12 inch wheels, 8.4 inch brake disks, 4 pot Metro front calipers and a 1275 metro engine.  The inside also features a Metro dash.
What have you done with it:
The first thing I did when I got the car was to get it running which I managed so I know the engine runs fine and everything worked.  I then started by removing the rear subframe and fuel tank.  I found the fuel tank was corroded beyond repair so after lots of investigations I found out it came from a Morris Ital (Marina)!  After lots more searching I finally located a replacement which will come with the car but has not been fitted.  I then began cleaning up the rear subframe and the body at the rear but had to temporarily replace the subframe to make the car movable when we last moved house.  I have also recently removed the cylinder head from the engine and removed the engine itself ready for a rebuild but this can be dropped back in to aid transportation if required.
What does the car require:
It basically just needs stripping down, cleaning up and then rebuilding replacing various parts as required.
Whats it like to drive:
As it's a very solid shell with solid mounted subframes then I think it will handle very well.  The side and rear doors can also be lifted off and so would be great for cruising around in the summer!
What does the logbook say:
It says registered in 1968 (free tax) and is registered as a Nomad Special.
Where is it:
Derbyshire
How much?
All yours for £750 !
More pictures of the car now and before can be seen in the link below.
https://smg.photobucket.com/user/Grayedout/slideshow/OOG

Gray




Number of posts

: 65


Age

: 50


Location

: Derby


Job/hobbies

: Engineer / Mini's and motorsport


Registration date :

2009-07-06



---
Permissions in this forum:
You
cannot
reply to topics in this forum